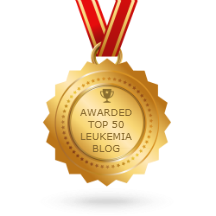 We were recognized at #27 in a Top 50 Leukemia Blogs publication, which is ranked based on Google ranking, popularity, influence and quality. Thanks to everyone who have been following Rachana's progress and keeping us in your thoughts and prayers. Our intent with this blog remains the same – keep our family and friends updated on Rachana's recovery and in that process, hopefully, inform and inspire others.
But a more important news that came out early this week was FDA panel's recommendation for approval of gene therapy treatment for Leukemia. This is big news and I truly believe that in a few decades we'll not have to rely on chemotherapy as the only or first choice for cancer treatment, given the havoc it creates by killing not just bad but good cells as well. In an earlier blog post I had spoken about personalized medicine, and this gene therapy stuff is very promising. Read the news article I linked to above, but in a nutshell this therapy is about taking a particular part the patient's White Blood Cells called CAR T-cell, altering their gene structure so they attack the cancer cells, and injecting them back into the patient's body; essentially using an amped up version of the body's own immune system to fight the disease. Sounds nothing short of science fiction!
For about 4 of the last 6-7 weeks Rachana had been on IV antibiotics to fight the latest infections. It was surprised when they said that she could get IV antibiotics at home. The antibiotics are delivered home in what looks like slightly larger tennis balls. It's a nifty piece of technology where the ball deflates slowly and pushes out a pre-calibrated amount of fluid over a period of it. We just have to connect the tube to the PICC line in Rachana's chest. Here is a picture of the inflated and deflated medicine ball. We just have to use IV flushes to clean her line before and after the medicine.
The other day Rachana and I were once again counting our blessings that we'd had an incredibly easy time working with the entire medical system. We have zero complaints and issues with Aetna (insurance), Home Health Provider of TX (home nurse and therapy) and UT Southwestern (medical team, clinic and hospitals). We are genuinely  thankful that we don't have to worry about the quality of care. Every doctor we have is excellent. They have always been patient and caring. Every small pain, ache, discomfort and other symptoms are intently listened to and acted on. The facilities we use are world-class. Small things like having a valet parking services (which is free most of the time) is extremely useful. The nurses and other medical staff are incredibly nice and caring. The hospital rooms are nothing short of a good hotel. The fact that I could stay with Rachana and actually work from the hospital is extremely convenient. I cannot imagine the logistical nightmare we'd be in if I could not stay with her long term, or I didn't have the facility and ability to work at the same time. Each hospital floor has a small meeting room for families to use for consultation and other meetings. One of these rooms has become my de-facto office. When we were in the hospital, I used to work from Rachana's room most of the day but take scheduled conference calls, web meetings and all other client calls from my 'hospital office'. Given that there is not much to do in the hospital, and no kids to entertain and handle in the evenings, I ended up working a few more hrs when we were in the hospital. The cafeteria is basically a large modern self-serve restaurant which is a welcome break from the monotony of the hospital rooms, the machines and their sounds. I have a 'LA Fitness' membership that is hardly used but when Rachana was in the ICU from Oct to Dec, I probably clocked the most consecutive days in the gym. Unfortunately it wasn't related to health or fitness, rather hygiene. All the hospital rooms have a bathroom inside the patient room, except the ICU rooms. So when Rachana was in the ICU for those 100 days last year, I had to find a shower facility that was closer than the 30 mins one way trip to home. I ended up using LA Fitness, which was about 10 mins away, basically for it's bathroom facilities.  I would unapologetically go in and out of a fitness club just to take a shower. I kinda see the point of the hospital management deciding not to put a toilet/shower in the ICU rooms as the patient is probably not in a state to be on their own and walk to the toilet, but I would argue that the reason they have a sofa/bed for the caregiver is the same reason you'd provide a shower or at least have a shared gym style shower facility for caregivers use. But, I'm not complaining. Outside of our homes, if there is another place where Rachana and I have 'lived' the longest, it's the UT Southwestern's Clements University Hospital. I wish Rachana didn't have a reason to be there, but I for one am glad that I could be with her all the time and comfortably live and work at the same time. Things would have been much worse if our doctors, nurses, the hospital staff, the facilities and insurance were not what they thankfully are; and for all those things, we are genuinely grateful.